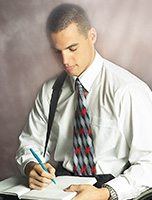 Dissertation Writing
Dissertation writing is a troublesome part of every academic's education. Suddenly you are presented with the exciting opportunity to put all the fruits of your research and studies into the thesis or dissertation format. The only problem is that writing a thesis or dissertation is not always taught in school. Dissertation writing and thesis writing are skills that could constitute an entire college course! Writing a dissertation is very different from writing an essay or term paper. No longer are you putting other people's ideas on paper, every idea is your own! This is an exciting opportunity and one that should be taken very seriously! To have reached the point where you are ready to write a thesis or dissertation is a remarkable feat. However, actually writing the thesis or dissertation is entirely another story. Getting there is just half the battle.
DissertationProfessionals.com understands the frustrations that many students who reach this point in their academic careers have to experience. Imagine spending over five years putting your heart and soul into your studies only to hit a wall when it comes time to write dissertations. Maybe it was five years since you last took an English course!
DissertationProfessionals.com specializes in writing dissertations and writing thesis papers on all subjects. Our team of writers has written many dissertations to assist many students putting their ideas into the correct dissertation format or thesis format. By placing an order with us you will receive an excellent thesis or dissertation that will serve as a sample dissertation or sample thesis to allow you to write your own dissertation or thesis. The quality is always superb! Place your order today.
Our Dissertation Hotline is Open 24 Hours A Day!
1-877-817-6002
Wondering what a paper from us looks like?
Download a free term paper example right now!