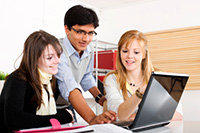 The Dissertation Writing Process
The following dissertation information is for your information. Remember that other services promise but WE DELIVER >>>> Call us for all your Dissertation writing needs 24-hours a day!
The Dissertation Writing Process - Read It For Yourself Below!
A dissertation is a series of chapters that are designed to present your research work to professional academics.
Chapter - 1
The first chapter is an introduction to the area of research that you have chosen. Here is where you explain the issues you are concerned with. Your introduction must accomplish two critical tasks. First, you must illuminate a problem that you have identified, and second, you must articulate a research question that focuses your research. The introduction is also expected to prepare the reader for reading and so it summarizes your entire project: your research question, the methodology you chose for framing your research, the research results, and the conclusions you have arrived at.
Chapter - 2
The next chapter is expected to demonstrate your familiarity with the issues. Here you must make reference to the research that is already published, and critically analyze the literature. In this chapter you should elaborate the research problem and refine your research inquiry so that your purpose is specific and focused.
Chapter - 3
The methodology chapter is where you substantiate your research method. Why did you choose this method, and how is it appropriate for what you want to explore? What will this method provide you? It may be a quantitative method, providing you with statistical information, or it may be a qualitative method that is analytical, or ethnographic. You might have interviews, or you might be analyzing poetry. Maybe you've chosen to combine several methods. Your methods are specific to your research interests and your objectives.
Chapter - 4
After this, you need to synthesize everything you learned by discussing your research results. Here is where you examine the data closely, and explain what your analysis has revealed. Whatever your research question is designed to explore, this chapter is where you respond to the inquiry.
Chapter - 5
Finally, you have to write a conclusion. The conclusion is similar to your introduction: it is a summary of your work. It is where you re-state the problem, remind the reader of your inquiry, the method, and what your research has revealed. More importantly, the final chapter needs to point towards the future. What is the greater benefit of your research? How does it contribute to your field of study, and what kinds of questions have been unearthed with your research?
Your dissertation can be the most important accomplishment of your graduate student experience. Call us today and let us help you make the most of this experience.
Stuck on tough dissertation topic? Don't know where to start? Feeling overwhelmed?!?!?! We understand and that's why we specialize in custom dissertation writing assistance… including creative dissertations! DON'T TRUST JUST ANYONE… we'll prove ourselves by delivering work chapter by chapter. You'll be surprised at how good we really are!!!
Our Dissertation Hotline is Open 24 Hours A Day!
1-877-817-6002
Wondering what a paper from us looks like?
Download a free term paper example right now!